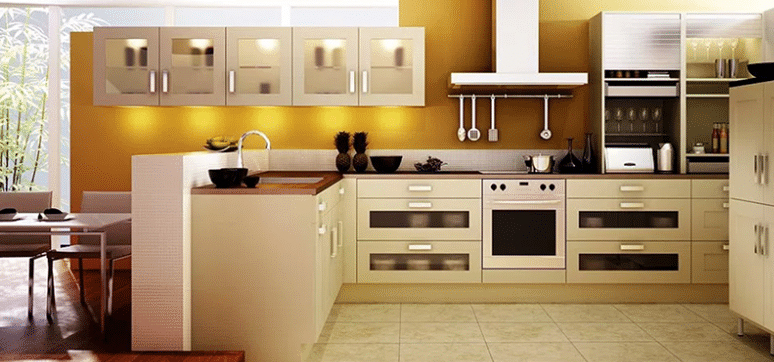 Well-designed modular kitchens naturally become the focal point of every house. Gone are the days when kitchens were just functional. Now, people opt for kitchens that are both functional and aesthetically appealing. It is a personal space that should express your taste, class, and lifestyle. Hence, you need to pay attention to each and every element during your kitchen renovation. There are lots of options available in the market that can make your kitchen design more elegant and luxurious. If you are low on budget, you can come up with many smart kitchen renovation ideas as well to make your kitchen look expensive. Mentioned below are a few:
01 of 06 Choose colours that give a luxurious appeal
Colours play a very crucial role in setting the right tone and mood of the space during your kitchen renovation. You can instantly transform the look of any space by applying a coat of paint. Hence, you can make kitchen design more luxurious as well by choosing the right colours. According to experts, it is best to opt for lighter shades like champagne, beige, and pastel hues to give your kitchen interiors a more luxe appeal. If there are lots of cabinets and drawers present in the kitchen, use darker colours for them like charcoal and teal. They will complement the lighter colour and give a very contrasting effect. However, if you are low on budget and cannot spend on different colours, just go with an all-white kitchen. An all-white kitchen has a classy appeal and appears brighter and more spacious. When choosing an all-white kitchen, keep in mind that white can get dirty very easily and you have to put more time and effort into keeping the kitchen clean.
02 of 06 Adorn the cabinets with new knobs
Even the tiniest elements can have a huge impact on your kitchen design. If you want to uplift the decor of your kitchen design, consider installing new knobs on your cabinets. This kitchen design idea will allow you to change the look of cabinets completely without making any large expenses. Depending on your kitchen design, you can either choose contemporary knobs or traditional knobs. They are easily available in many stunning designs, materials, and colours. You can consider experimenting with various options but make sure they match the look of your cabinets.
03 of 06 Do not ignore the backsplash
Besides investing in cabinets for uplifting the look of your kitchen, you must invest in the backsplash as well. These are the two main things where you should spend some money to enhance the aesthetic appeal of the room. A great backsplash can become the focal point of your kitchen. You can experiment with various ideas to give your kitchen design a more lavish look. There are various options available in the market you can choose from. Also, a backsplash keeps the walls protected from spots and stains. As a result, your kitchen appears cleaner and more appealing.
04 of 06 Pay attention to lighting
When designing any space, you must pay attention to lighting. Without proper lighting, a space appears very dull and unappealing. By creating a good lighting setup, you can instantly give any kitchen design idea a more luxurious feel. There are various types of lighting fixtures available in the market that you can choose to enhance the aesthetic beauty of the space. Consider layering with different types of lights to create a lighting setup that keeps the interiors well-lit and makes them appear luxurious. However, you have to be careful with the positioning of the lighting fixtures. Also, consider installing a dimmer so that you can set the brightness of the lights according to your preferences.
05 of 06 Add marble
You cannot deny the fact that a marble kitchen appears very stunning and luxurious. Its elegant look will make your kitchen the centre of attraction in your house. However, it can be quite expensive. Do not worry if you cannot afford a marble countertop. Sometimes, using a few small hacks with marble can help to enliven the beauty of the space without spending a fortune. Just add small hints of it to your current kitchen. Something as minimalistic as installing a pre-cut piece of marble in your baking space can have a huge impact on the overall look of your kitchen. Hence, you do not have to spend a lot of money to give your kitchen design a more luxurious feel.
06 of 06 Install a kitchen island
Always consider installing a kitchen island in your kitchen. This is because a kitchen island makes your kitchen both appealing and functional. You can create more storage space by creating base cabinets and using the extra countertop space for installing appliances. Further, a kitchen island makes the space appear more organised. You can add an expensive-looking kitchen island to your kitchen design for a more luxurious feel.