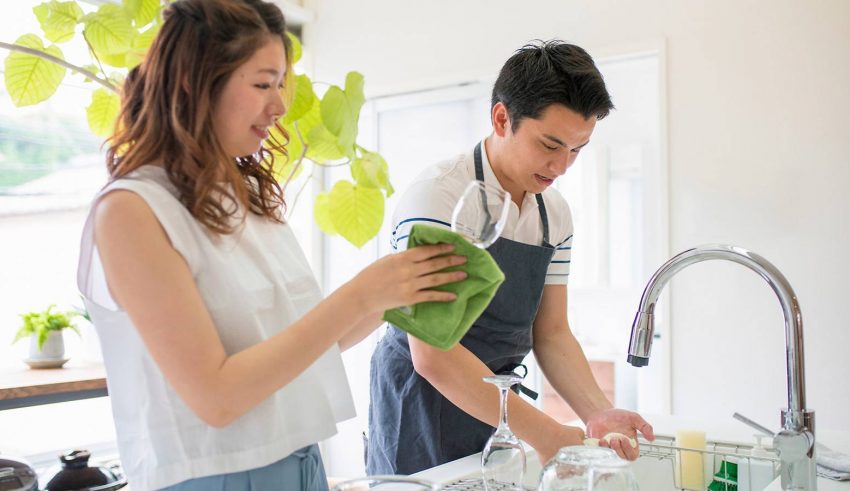 When moving to a new apartment, there's a list of chores that need to be done and there's a long list of items that need to be purchased. These are items you need to have at every house. How else will you do your chores? The list of essential household items will help you remember everything when out shopping. There's no need to go back and forth once you tick off everything you want.
Kitchen
Whether you need to cook, drink water, or even do the dishes, there's a list of basic kitchen items you need.
Kitchen Utensils
Even if you don't cook, you need some kitchen utensils. You don't have to purchase everything right away; you can just create a list of essentials you need and then buy the rest later. Don't know what the essentials are? Here's a list:
Spoons
Forks
Knives
Spatula
Can opener
Vegetable peeler
Scissors
Measuring cups
That's only the beginning of essentials to have in every household.
A Knife Collection
Yes, knives are a part of utensils, but it's important to have a good knife set available at hand. Investing in a good set could pay off later because they last for years and make chopping up meats and vegetables a smooth experience.
Cutting Board
Avoid the hassle and protect your kitchen countertops and cookware from being damaged by having a cutting board available. If it's only for you, then a small cutting board will do the trick, but if there are multiple people in the house, then you better invest in something bigger to prepare larger portions.
Pots, Pans, & Bakeware
Even if you're not a chef in the kitchen, you never know when you might want to make eggs. Hence, pots and pans should always be found in every kitchen. A stockpot, a saucepan, and a casserole dish will always come in handy.
If you're a baker, you might need a couple more things, including a mixing bowl, electric mixer, and bakeware.
Dinnerware & Glassware
Every household needs a dinnerware set available at all times. If you have a budget, you can choose one accordingly; consisting of plates, bowls, and silverware. With the right pieces, you'll be inviting guests for delicious feats and a beautifully set table.
This also applies to glassware for drinking water, or any other beverage, a basic set will be beneficial. If you drink coffee or tea, you might want to grab a few mugs along the way.
Kitchen Appliances
If you're a coffee-lover, you can't live without a coffee machine on your countertop. This appliance must be on top of your list, along with other small appliances that will make things more convenient for you. These include a microwave, toaster, a kettle, food processor, and a blender for a tasty smoothie in the morning.
Bedroom
If you still didn't get the following for your bedroom, make sure to get them on your next shopping trip.
Pillows
Every bed needs a pillow; how else will you be comfortable while sleeping? For the sake of your neck and upper back, find a pillow that's suitable for you.
Bed Sheets
Mattresses and bed sheets are best friends. Bed sheets are important as a barrier between your body and the mattress, and soft, high-quality ones will help you get quality sleep.
Hangers
Keep your closet arranged by hanging your clothes on hangers. A tip to keep in mind is to get good hangers that can support heavy jackets and other clothing items in your closet.
Bathroom
What do you need to get for the bathroom? Take a look below:
Towels
Every household needs towels to dry hands after washing, or to use after taking a shower. Make sure to buy more than one.
Trash Can
Every bathroom needs a trash can to dispose of waste. So while shopping, make sure to purchase one to place in every bathroom.
Bath Rug
Add a touch to your bathroom by getting a matching bath rug. There are multiple designs and colors to choose from, so you have plenty of choices and a chance to choose one based on your budget.
Hand Soap
You always find hand soap in every household, and nowadays you can't forget it as you always need to wash your hands to protect yourself from germs. If you have multiple bathrooms, you'll need multiple hand soaps.
Other Essentials
There are a few more things you need to have at home:
Storage Solutions
Everybody wants their house to be arranged. Even if it's a small house, there should be few solutions to maximize your space and organize it without a problem. You need storage organizers and containers for each room to keep your house neat.
Vacuum Cleaner
Nobody wants to spend a whole day cleaning their home. Save some time by getting a vacuum cleaner to clean the dirt off the rugs and floor efficiently and in a small period of time.
Laundry Essentials
Unless you send all your clothes to the dry cleaners, laundry essentials should be on your list. Do you have a washing machine and a dryer? If not, then get them along with detergent and fabric softener. After washing your clothes, some items might need to be ironed, which is why you need an iron and an ironing board.
Toolbox
You never know when you might need a screwdriver, batteries, or any other tool. A toolbox will have essentials for emergencies, home improvements, or taking care of home appliances. So make sure to have one at home to rely on when needed.
First Aid Kit
You don't have to think twice about having a first aid kit at home, especially if you have kids. It's the first thing you think about to treat minor injuries and manage major ones until you get help.
Other than the furniture, these are the items you need to have on your list when shopping for your household essentials. All that's left to do is visit us at Dragon Mart to find everything you need in one place for the best prices.